2nd Place Finish for Best Food and First Place Finish for Best Presentation at the 2016 Brunch Battle

2016 Chili Cup Winner for "Most Creative"
"Chef Frank's Smokey Chili with smoked cheddar, chili chocolate sauce, and gluten free cornbread"
Pom Wonderful Dessert Winner by Chef Andres Edlbauer: Goat Cheese-Buttermilk Panna Cotta on Kataifi with Arugula Salad and POM-Honey Vinaigrette  
Best Outdoor Brunch 2014 – Thrillist
Best of Citysearch 2009 Winner — Best Boston Romantic Bar & Best Boston Wine Bar
Best of Citysearch 2009 Runner-Up — Best Boston After Work Bar
Best of Citsearch 2009 – Best Waterfront Dining, Boston MA.
Best of Boston 2008 – Best Neighborhood Nightlife, North End.

Zagat Survey – Rated Excellent. "Arrive early" to stake out a prime "people-watching" spot amid the lounge's "comfortable sofas and chairs", because once the "pretty" "young crowd" starts "packing" this "hip" New American eatery on the waterfront, personal space is minimal; after all, "most never actually make it back to the dining room", settling for "a meal of three martinis" instead.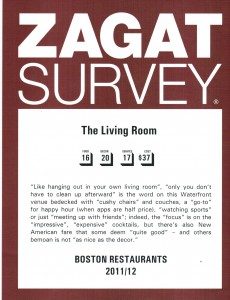 Boston Herald Dining Review: After a long work week the last thing you need is to worry about making it past pretentious velvet ropes and mingling with uptight scenesters. The Living Room's laid-back/upscale atmosphere makes a refreshing change. Sink into one of the plush bar couches, sip a Rising Sun martini and let the relaxation begin. The 150-gallon saltwater aquarium overlooking the martini bar provides a soothing backdrop to the young financial district crowd.

Best of Citysearch 2004 Winner — Boston's Best Lounge
Citysearch Editorial Review:
Plush, pillowy bar couches beg you to sink in and relax. In the glow of a neon-blue aquarium, young Financial District professionals mingle over pulsing dance music and sip from an immense selection of wines by the glass. The living-room theme is abandoned in the dining room in favor of formal table settings and plum-colored curtains flanking the floor-to-ceiling windows.
Unlike other high-end lounges, the Living Room succeeds at being homey rather than haughty–there's no cover, no line, no claustrophobic crowd and best of all, no attitude. The inventive martini list features everything from the classics (Manhattans, cosmos) to creative cocktails like the Rising Sun (made with sake, plum wine, Chambord, champagne and mangos). A gigantic menu offers fairly priced comfort-food favorites (Mom's pot roast) and Asian-influenced seafood (sesame tuna lo mein). Dessert pies, temptingly displayed near the entrance, are worth trying.
Improper Bostonian
2003 Boston's Best Award: "New Hipster Hangout" "Quiet but lively, hip yet not snotty: it's the scene for people who are too cool to care about making the scene."
Phantom Gourmet
The Best: Espresso Martini" "At The Living Room, between the North End and Faneuil Hall, a young, vigorous crowd lounges about on love seats and couches while digging into comfort food like Lobster Ravioli with Gorgonzola cream sauce and battered Portobello Fries. The chic, yet homey atmosphere is conducive to sipping ten-dollar martinis like the Espresso, smoothed together with Bailey's, vanilla vodka, Kahlua, espresso, and three café beans. There's also the Vanilla Bean with raw sugar around the rim, the fruity Scarlet Orange, and the Van Gogh, with a star fruit garnish."
The Victoria's Secret Guide to What is SEXY in Boston
Bostonians have voted The Living Room one of the sexiest places in Boston, in The Victoria's Secret Guide to What is SEXY in Boston

WINNER – Boston's Sexiest Lounge –
Stare at the abstract nude over the bar for a while and you'll feel either sexy or confused (so many body parts, so little canvas). On one recent night two couples snuggled at separate ends of one of the enormous sofas. Maybe they should call it the Loving room
NOMINEE — Boston's Sexiest Cocktails – Up All Night:
Absolut Citron, Red Bull, and a splash of cranberry juice – if your nighttime agenda calls for a little extra energy, they say Red Bull gives you wings. We think it'll give you something else as well. Think about it.